resin art!
Geode-Inspired Resin Art Painting
Inspired by natural geodes, you'll create your own resin painting that simulates the contours and veining that agate slices are known for.
This is a hands-on art experience where you'll learn to mix, colour and pour resin and then make your own resin masterpiece to display in your home.
No previous experience is required for this class as you'll learn as you go.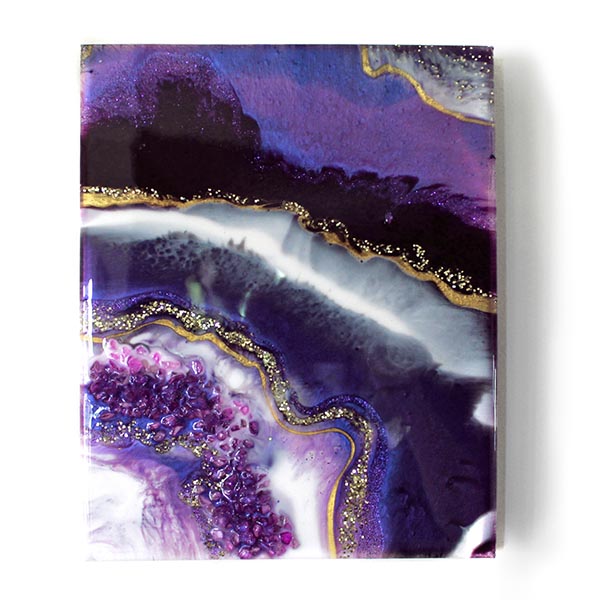 Cost
$160
Includes all materials and primed birch art board
Minimum Age:
15 years old
This class is not suitable for children or pregnant women
Next Class:
Saturday, 6th May 2023
(get in EARLY for Mother's Day)
10:00am – 12:30pm (approximate finish time)
More 2023 Dates Announced Soon
Reviews
Don't just take our word for it, this is what students say!

KATE MAIDEN
Highly recommend this class 😊
"I knew from my welcome I was going to have a wonderful workshop. Mylene's knowledge & openness in sharing so much knowledge with you during the class was exceptional as I've attended other art courses with other arts in the past.
I was encouraged and given clear instruction so that I could create my "masterpieces". I was so excited to collect my "masterpieces" the following week and again given more tips for successes in the future when I create at home.
Can't wait to attend my next workshop on the 15th June. Highly recommend you attend workshops with Mylene."

RHONDDA STEVENS
Resin Geode Paintings
"We thoroughly enjoy your classes especially the tips and hints, very helpful, thanks for sharing your knowledge."

KANIKA CHOPRA
Amazing!
"Thank you Mylene for sharing your wealth of knowledge and helping me create my first ever resin art piece. It was an amazing learning experience…"
What you'll learn
What's Covered in the Resin Geode Class
Class Length: 2.5 hours
---
You'll Make:
A 23cm x 30cm (9″ x 12″) resin geode painting using crushed glass, glitter, metallic powders and resin colourants.
What we'll cover:
Working safely with resin
How to prepare the artboard
The types of resin suitable for resin art
Calculating the amount of resin required for your painting
Measuring, mixing, colouring and pouring resin
Creating the geode pattern, veins and highlights
How to finish your resin artwork professionally; and
How to hang your finished resin geode painting
CLASS OPTIONS
OPTION 1
Class + class materials
$160
2.5 hour workshop
You'll take home your finished painting once it has cured. This is the best option for anyone wanting to try a resin experience.
OPTION 2
Class + materials PLUS Take-Home Resin Kit
$285
2.5 hour workshop including kit valued at approximately $135 which is yours to keep so you can keep pouring at home.
This option is ideal if you want to make more resin masterpieces. Kit includes the resin supplies you need to continue making your own resin art canvases at home including epoxy resin, pigments and resin dye. The kit includes:
1 litre epoxy resin
3 resin colourants to tint the resin
1 metallic powder
all safety equipment
mixing cups and stirrers
comprehensive class notes
The resin kit contains sufficient resin to create at least 2 more 23x30cm canvases.
OPTION 3
Gift Certificate
$160 Class
$285 Class + Take-Home Resin Kit
A Gift Certificate for the Resin Geode Art Class is a great experience to give to the person who likes to be hands-on or who is difficult to buy for.
The certificate is valid for 36 months from the date of purchase.
ADDITIONAL NOTES
Here's a couple of other things to know before your resin class:
What to wear/bring
An old shirt, with long sleeves and an elasticised or button-up cuff (not 3/4 sleeves)
Wear old clothes that you don't mind getting messy
Tie back long hair – resin is sticky!
Glasses, if you need them for close-up work
Collecting your pieces
The resin used in this class takes 24 hours to cure so you will need to return to collect your resin artwork. Arrangements can be made on the day, or alternatively, shipping can be arranged.
Limited Places Available
Class sizes are kept small so you get a quality resin art experience. You'll receive individual attention, personalised to your needs and ability.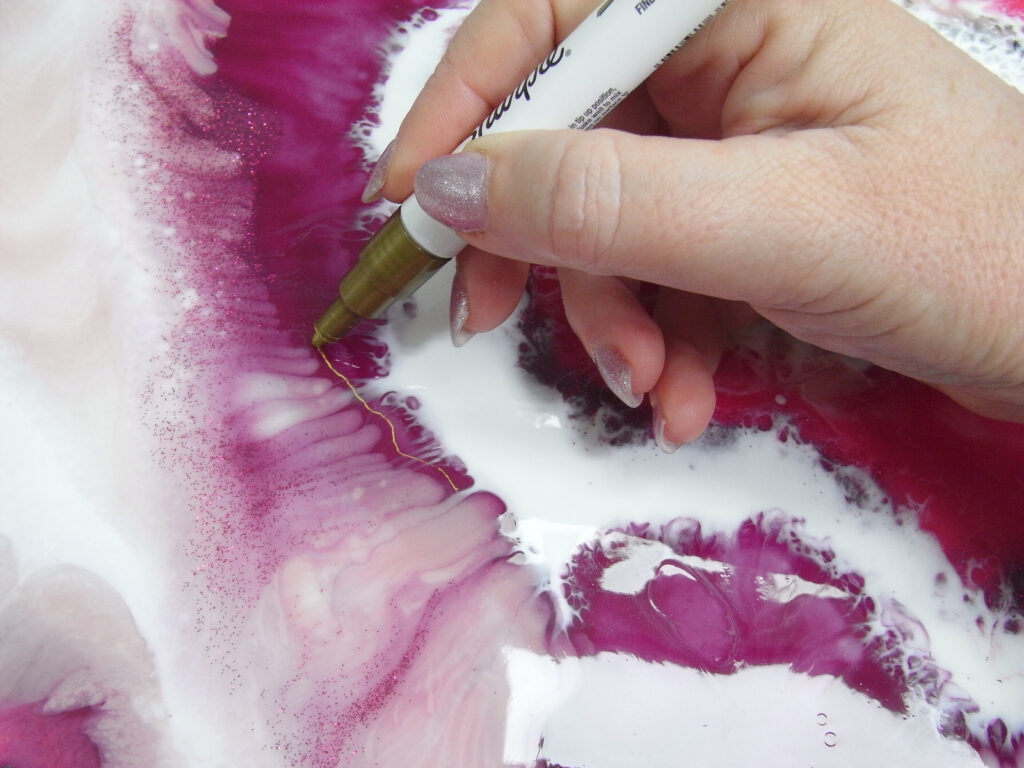 Private Classes
Can't wait for the next resin class to be announced? Then email me with your preferred date and time and we'll organise it.
Private one-on-one resin workshops are also available.
As a resin expert with 15 years of teaching experience, I can tailor a class to suit your needs. A private class is ideal if:
what you want to learn is not covered in my regular workshops
you want to learn how to resin in a more private setting
Additional fees apply to private workshops. Please email me to make arrangements.