Our Most popular class!
Resin Cheese Board, Charcuterie Board or Chopping Board…
No matter what you want to call it, it is our most popular resin class and loved by everyone who does it! Resin cheese boards are an absolute must for entertaining and when you present your cheese and nibbles on one you made yourself, your guests will love it!
This class always books out as soon as it's listed and it consistently receives ⭐⭐⭐⭐⭐ .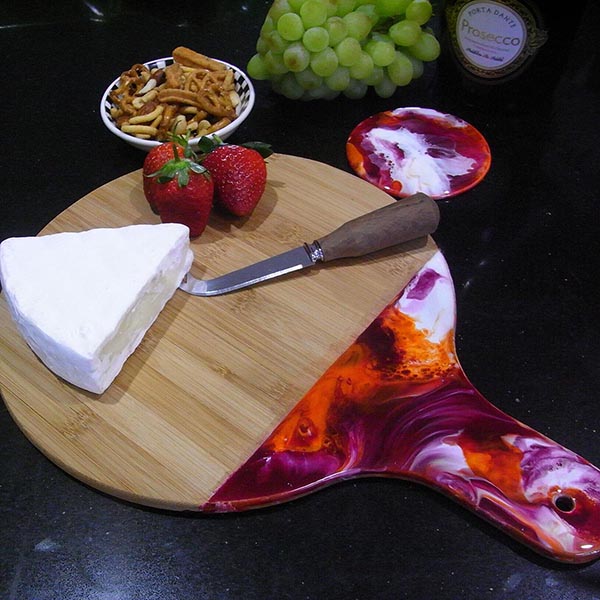 Cost
$160
Includes all materials, cheese board, 2 coasters and mini cheeseboard
Minimum Age:
15 years old
This class is not suitable for children or pregnant women
Next Class:
Sunday, 21 August 2022
2:00pm – 4:30pm (approximate finish time)
Resin Cheese Board Class Reviews
Don't just take our word for it, this is what students say!

WERA SMITH
I'll Be Back for Another Class!
"Thank you for sharing your passion, knowledge and skill during the workshop. Having never attempted to work with resins before, you put me at ease with your easy to understand instructions and demonstration.
It was such an enjoyable afternoon and I get to take home several pieces that remind me of a fun and creative afternoon that I can enjoy in my home.
I will be recommending your class to my friends and you will be sure to see me at a future workshop."

dI HAMILTON
Cannot Speak Highly Enough of this Class
"I am just wanting to let everyone know that you were running a fabulous workshop for cheeseboards. We were a small group and were given very close attention and great instruction. Cannot speak highly enough of your session. Had a few chuckles throughout our time and overall came away with a great product. Would definitely recommend.
Thanks for the great afternoon."

BONNIE VANDERBOON
I highly recommend!
"We received a cheeseboard workshop as a gift for our wedding anniversary. It was so enjoyable! I have no artistic flare or experience in anything like this & I still managed to make some beautiful pieces. Every step is explained clearly & she teaches at a pace that suits you. We really liked the fact that not only was everything explained clearly HOW to do each step, but also WHY. We left the class with so much knowledge & confidence. I highly recommend!"
What you'll learn
What's Covered in the Resin Cheese Board Class
Class Length: 2.5 hours
---
You'll Make:
A 3-piece set consisting of:
A resin cheese board and 2 matching coasters.
PLUS a mini resin cheese board. This is your practice piece to help you choose your colours and practice the marbling technique before making your major pieces

Your serving ware set will take 24 hours to cure and will be ready for collection the next day. On your return, you'll make a matching charm from the resin drips to dangle from the cheeseboard handle
What we'll cover:
Working safely with resin
How to prepare your boards before applying resin
FOOD SAFE resins
How to measure, mix, colour and pour resin
Resin art techniques – how to create marbling and how to create lace effects
How to finish the pieces professionally; and
How to look after your new serving ware
CLASS OPTIONS
OPTION 1
Resin Cheese Board Class + class materials
$160
2.5 hour workshop
You'll take home all the items that you make once they have cured. This is the best option for anyone wanting to try a resin experience.
OPTION 2
Resin Cheese Board Class + materials PLUS Take-Home Resin Kit
$270
2.5 hour workshop including kit valued at approximately $120 which is yours to keep so you can keep pouring at home.
This option is ideal for anyone wanting to make resin cheese boards to sell or give as gifts. Kit includes the supplies you need to continue making your own resin cheese boards at home including epoxy resin, pigments and resin dye. The kit includes:
1 litre epoxy resin
3 resin colourants to tint the resin
all safety equipment
mixing cups and stirrers
comprehensive class notes
The resin kit contains sufficient resin to create several more pieces at home.
OPTION 3
Gift Certificate
$160 Class
$270 Class + Take-Home Resin Kit
A Gift Certificate for the Resin Cheese Board Workshop is a great experience for the person who likes to be hands-on or who is difficult to buy for. The certificate is valid for 36 months from the date of purchase.
ADDITIONAL NOTES
Here's a couple of other things to know before your resin class:
What to wear/bring
An old shirt, with long sleeves and an elasticised or button-up cuff (not 3/4 sleeves)
Wear old clothes that you wouldn't mind getting messy
Tie back long hair – resin is sticky!
Glasses, if you need them for close-up work
Collecting your pieces
The resin used in this class takes 24 hours to cure so you will need to return to collect your serving board and coasters. Arrangements can be made on the day. Alternatively, shipping can be arranged.
Limited Places Available
Class sizes are kept small so you get a boutique experience. You'll receive individual attention, personalised to your needs and ability.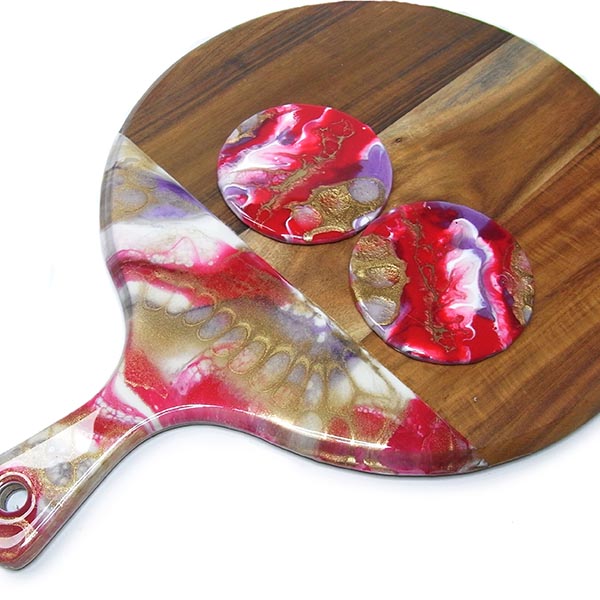 Private Classes
Can't wait for the next resin cheese board class to be announced? Then email me with your preferred date and time and we'll organise it.
Private one-on-one resin workshops are also available.
As a resin expert who has 15 years of teaching experience, I can tailor classes to suit your needs. A private class is ideal if:
what you want to learn is not covered in my regular workshops
you want to learn how to resin in a more private setting
Additional fees apply to private workshops. Please email me to make arrangements.