TRENDING class!
Resin Earrings Class
In the Resin Earrings class, you'll make and assemble your own dazzling collection of eye-catching earrings. If you're a fan of the latest on-trend fashion accessory, then you'll love making your own big, bold and colourful statement earrings.
We work with a quick curing resin in this class and that allows you to create resin effects that you can't make with slow-curing resins. As a result, you'll be able to wear your favourite pair of earrings home after class!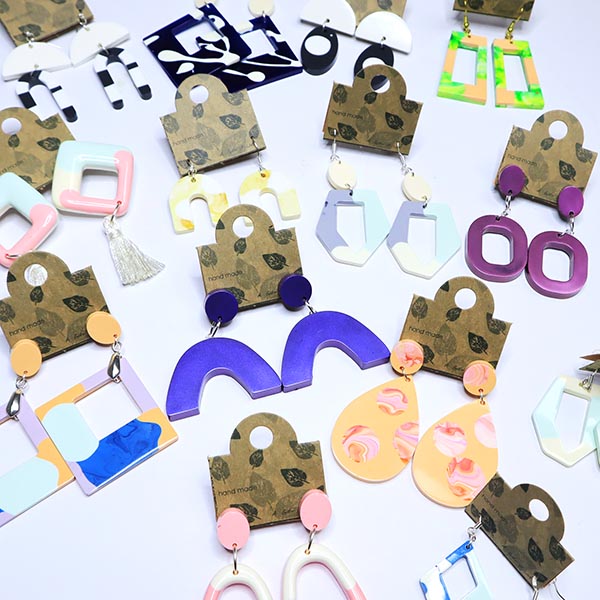 Cost
$150
Includes all materials required for this class
Minimum Age:
15 years old
This class is not suitable for children or pregnant women
Next Resin Earrings Class:
Saturday, 22 April 2023
9:00am – 12:30pm (approximate finish time)
What you'll learn
What's Covered in the Resin Earrings Class
Class Length: 3.5 hours
---
You'll Make:
5 pairs of resin earrings.
Using the silicone moulds provided, you'll also create many other pieces that are yours to keep. You can assemble these into additional pairs of earrings at home.
What we'll cover:
Working safely with resin
An overview of resin and what makes it cure
How to measure and mix resin
Colouring techniques – to create all the different effects, including marbling, metal effects and adding glitter
How to assemble your pieces into wearable pieces of art!
CLASS OPTIONS
OPTION 1
Class + class materials
$150
3.5 hour workshop
You'll take home all the items that you make at the end of class. This is the best option for anyone wanting to try a resin experience and make their own collection of colourful statement resin earrings.
OPTION 2
Class + materials PLUS Take-Home Resin Kit
$250
3.5 hour workshop including kit valued at approximately $110 which is yours to keep so you can keep pouring at home.
This option is ideal for anyone wanting to make resin earrings to sell or give as gifts. Kit includes the supplies you need to continue making your own resin earrings at home including polyurethane resin, pigments and resin dye. The kit includes:
463g polyurethane resin
transparent resin dyes/opaque resin pigments to tint the resin
3 silicone jewellery moulds
all safety equipment
mixing cups and stirrers
sanding sticks
comprehensive class notes
OPTION 3
Gift Certificate
$150 Class
$250 Class + Take-Home Resin Kit
Looking for a really unique gift idea for a loved one?
The Resin Earrings Class makes a great gift for special occasions such as birthdays, anniversaries, Mother's Day or as a way to thank someone.
It's a great experience for the person who likes to be hands-on or who is difficult to buy for.
The gift certificate can be used to purchase Option 1 or Option 2 Resin Earrings Class.
ADDITIONAL NOTES
Here's a couple of other things to know before your resin earrings class:
What to wear/bring
An old shirt, with long sleeves and an elasticised or button-up cuff (not 3/4 sleeves)
Wear old clothes that you wouldn't mind getting messy
Tie back long hair – resin is sticky!
Glasses, if you need them for close-up work
Limited Places Available
Class sizes are kept small so you get a boutique experience. You'll receive individual attention, personalised to your needs and ability.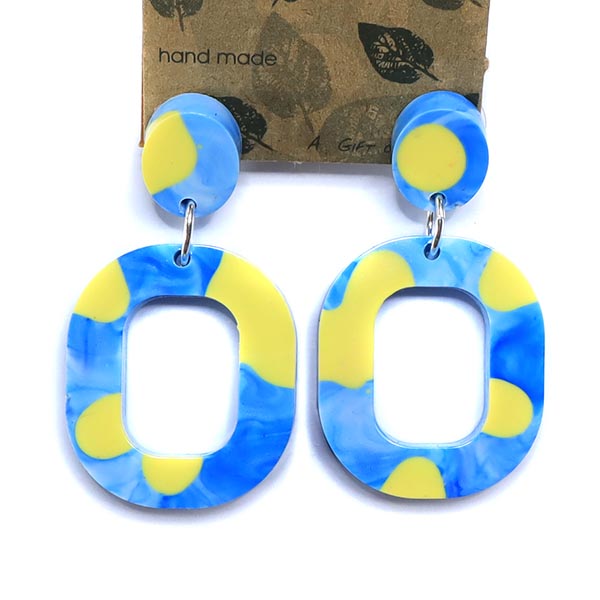 Reviews
Don't just take our word for it, this is what students say!

MARINA OBERLEUTER
Resin Earrings Workshop
"This class was fantastic. The teacher was amazing. Very helpful, thorough, patient and informative. Highly recommend this class."

dEL SINGH
Cannot Speak Highly Enough of this Class
"I would like to thank you for being such an amazing mentor and teacher in the Resin earring making art. You have been so very thorough, understanding and patient as well as passionate in teaching a new to resin begginer like me!
Thank you for taking me on board, showing me all the different resin coloring, pouring techniques and lessons that go with it."

SARAH NICHOLAS
Resin Earrings Workshop
"We had an amazing time at our resin workshop. Myléne has extensive knowledge about this craft and took time to gently assist us. We went home with some amazing earrings- not bad for first time resin users! Thanks for a great morning Myléne"
Private Classes
Can't wait for the next resin class to be announced? Then email me with your preferred date and time and we'll organise it.
Private one-on-one resin workshops are also available.
As a resin expert who has 15 years of teaching experience, I can tailor classes to suit your needs. A private class is ideal if:
what you want to learn is not covered in my regular workshops
you want to learn how to resin in a more private setting
Additional fees apply to private workshops. Please email me to make arrangements.