new to resin? start here…
Resin Bangles and Rings Class
Want to try your hand at making your own resin bangles, bracelets, cuffs and rings? Then you'll love this hands-on beginner's resin bangle class!
No experience is required to make these gorgeous accessories. You'll learn everything you need to know in the class so this class is perfect for beginners.
We use a quick-curing resin in the Resin Bangles class so you get to finish your pieces in class and then, wear them home!
Choose your own colour combinations and learn some different colouring techniques so you can create your own coordinating collection of fashion resin accessories.
This fun class is even more enjoyable when you get a group of girlfriends together or bring along your Mum!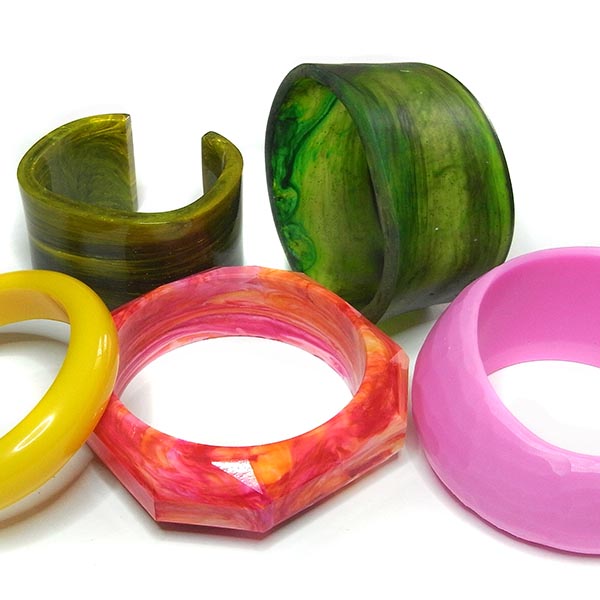 Cost
$150
Includes all materials used in class
Minimum Age:
15 years old
This class is not suitable for children or pregnant women
Next Resin Bangles Class:
Saturday, 6th May 2023
More 2023 dates announced soon
9:00am – 12:00pm
What you'll learn
What's Covered in the Resin Bangles Class
Class Length: 3 hours
---
You'll Make:
In the Resin Bangles Class, you'll make 2 resin bangles, a ring and some smaller pieces that can be turned into jewellery at home.
You'll completely finish the first bangle in class so that you can wear it home. Depending on how fast you work, you may finish all your pieces in class. If not, you will have learned the skills to complete these at home.
What we'll cover:
Resin safety and preparation tips
Why we're using a quick-curing resin and how it differs from slow curing resins
Measuring, mixing and colouring resin
How to pour the resin into bangle moulds
Two different marbling techniques
How to finish your bangles professionally
RESIN BANGLES CLASS OPTIONS
OPTION 1
Class + class materials
$150
3 hour workshop
You'll take home all the items that you make OR, wear them home and show them off! This is the best option for anyone wanting to try a resin experience.
OPTION 2
Class + materials PLUS Take-Home Resin Kit
$240
3 hour workshop including kit valued at approximately $120 which is yours to keep so you can keep pouring at home.
This option is ideal if you want to make gifts or sell your creations. The Take-Home Resin Kit includes the supplies you need to make your own resin bangles at home including polyurethane resin, a quality silicone bangle mould of your choice, pigments and resin dye. The kit includes:
475g polyurethane resin
Silicone bangle mould of your choice
1 x opaque pigment to tint the resin
1 x transparent resin dye
all safety equipment
mixing cups and stirrers
wet/dry sanding paper
comprehensive class notes
The resin kit contains sufficient resin to create several more pieces at home.
OPTION 3
Gift Certificate
$150 Class
$240 Class + Take-Home Resin Kit
A Gift Certificate for the Resin Bangle class is a great gift to give a girlfriend. Come and do the class together and have a fun girl's morning. The certificate is valid for 36 months from the date of purchase.
ADDITIONAL NOTES
Here's a couple of other things to know before your resin class:
What to wear/bring to your Resin Bangles Class
An old shirt, with long sleeves and an elasticised or button-up cuff (not 3/4 sleeves)
Wear old clothes that you wouldn't mind getting messy
Tie back long hair – resin is sticky!
Glasses, if you need them for close-up work
Limited Places Available
Class sizes are kept small so you get a boutique experience. You'll receive individual attention, personalised to your needs and ability.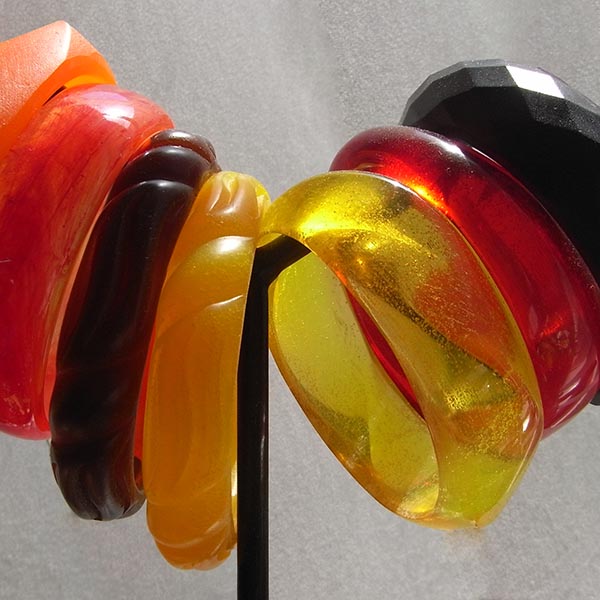 Resin Bangles Private Classes
Can't wait for the next Bangle and Ring Resin class to be announced? Then email me with your preferred date and time and we'll organise it (additional fees apply).
Private one-on-one resin workshops are also available.
As a resin expert who has 15 years of teaching experience, I can tailor classes to suit your needs. A private class is ideal if:
what you want to learn is not covered in my regular workshops
you want to learn how to resin in a more private setting
Additional fees apply to private workshops. Please email me to make arrangements.
Reviews
Don't just take our word for it, this is what students say!

CLARISSA HERBERT
We Learned So Much!
"My friend and I had a great time at the bangle and ring workshop on Saturday. You are very skilled at what you do and are a patient teacher. We learned a lot and made some lovely pieces so thank you."

Katrina ki
Amazing!
"We all enjoyed the class very much, and it was very informative. The class also made Glenda's extended birthday celebration extra memorable! Thank you so much for being so generous with your time. We all loved the end products we got to take home with us. The family was very impressed by the quality 🙂 5 stars from all of us!"

LAUREL BARBER
Amazing Class
"I just wanted to let you know just how amazing our class was! We thoroughly enjoyed it and thought you were such a great teacher and we really love what we created."