learn how to embed in resin
Resin Bangles – Beyond the Basics
In Beyond the Basics, you'll learn how to embed flowers in resin, create a bangle with birds silhouetted against a sunset gradient, embed lace and feathers, and how to create a stunning iridescent colour shift effect.
In this class, you'll work with a slow-curing resin and you'll create five gorgeous bangles. Some are complex, some are simple… but you are guaranteed to create some beautiful pieces!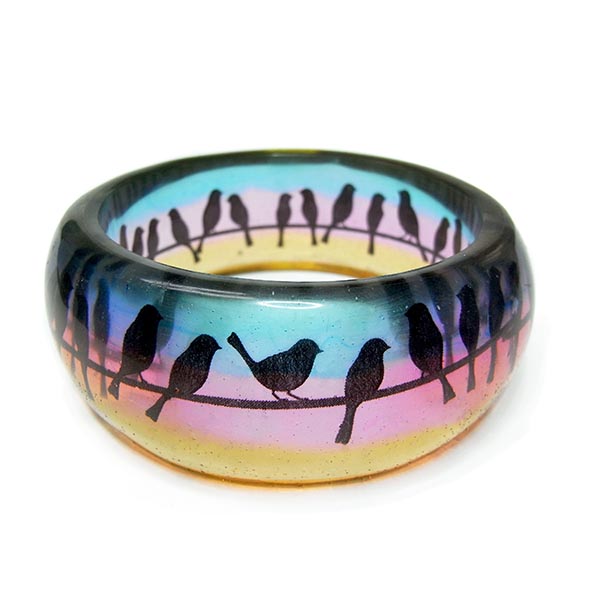 Cost
$200
Includes all materials required for the class
Minimum Age:
15 years old
This class is not suitable for children or pregnant women
Next Class:
More 2022 classes announced soon
2:00pm – 5:00pm (approximate finish time)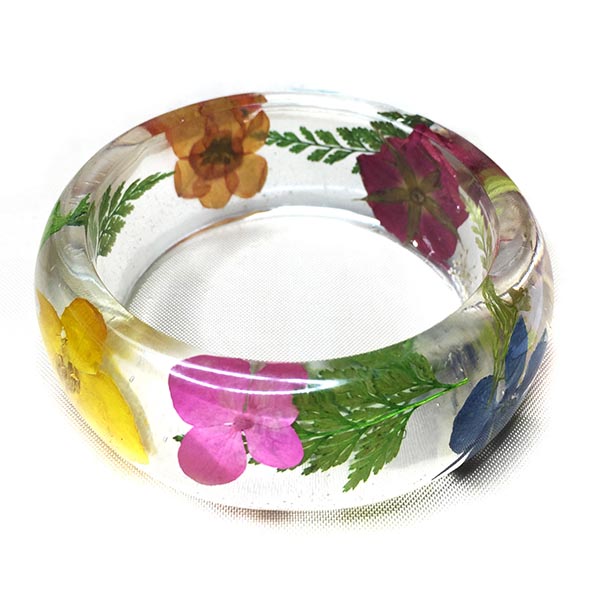 What you'll learn
What's Covered in the Class
Class Length: 3 hours
---
You'll Make:
You'll create 5 gorgeous resin bangles.
In Beyond the Basics, you'll work with a slow-curing resin. This gives you time to embed items like flowers in the resin.
Your bangles will take 24 hours to cure and will be ready for collection the next day when you'll demould them.
Finishing your bangles is done at home using the techniques learned in the Beginners Resin Bangle Class or the technique demonstrated at the end of your class.
What we'll cover:
You'll learn how to:
Work safely with resin
Measure, mix, colour and pour resin
Create a colour gradient in a resin bangle to showcase silhouetted birds on a telegraph wire
Embed flowers, feathers and lace in a resin bangle
Create an iridescent colour shift effect
Finish the pieces professionally
CLASS OPTIONS
OPTION 1
Class + class materials
$200
3 hour workshop
You'll take home the 5 bangles that you make once they have cured.
This is the best option if you want to make and wear your own unique OOAK bangles.
OPTION 2
Class + materials PLUS Take-Home Resin Kit
$300
3 hour workshop including kit valued at approximately $120 which is yours to keep so you can keep pouring at home.
This option is best if you want to make resin bangles to sell or give as gifts. The Take-Home Resin Kit includes the supplies you need to continue making your own resin bangles at home including epoxy resin, pigments and resin dye. The kit includes:
epoxy resin
a quality silicone bangle mould that you will get many repeat castings from
3 resin colourants to tint the resin
measuring and mixing equipment
safety goggles and gloves
comprehensive class notes
The resin kit contains sufficient resin to create several more pieces at home.
OPTION 3
Gift Certificate
$200 Class
$300 Class + Take-Home Resin Kit
This class makes a great gift for your wife, daughter, mother or girlfriend. They can learn how to dry their flowers and embed them in resin as a forever keepsake.
Purchase a Gift Certificate for the Beyond the Basics Resin Bangle Class or the Class with the Take-Home Resin Kit.
Gift certificates are valid for 36 months from the date of purchase.
ADDITIONAL NOTES
Here's a couple of other things to know before your resin class:
It's an advantage to do the Resin Bangle Class prior to booking into Beyond the Basics so that you know how to finish your bangles once they're cured – you will do the final finishing of these bangles at home. This technique is learned in the Resin Bangle Class.
What to wear/bring
An old shirt, with long sleeves and an elasticised or button-up cuff (not 3/4 sleeves)
Wear old clothes that you wouldn't mind getting messy
Tie back long hair – resin is sticky!
Glasses, if you need them for close-up work
Collecting your pieces
The resin used in this class takes 24 hours to cure so you will need to return to collect the pieces. Arrangements can be made on the day. Alternatively, shipping can be arranged.
Reviews
Don't just take our word for it, this is what students say!

RHONDDA STEVENS
Beyond the basics bangle workshop.
"Myléne it is an absolute pleasure to be a participant in any of your classes, this one though, it was fabulous. The manner in which you teach is exemplary, talking us through each step along the way, talking us through our errors and answering a myriad of questions with grace and understanding. I highly recommend this class to anyone who has done the basic bangle workshop. New processes learnt and I've come away with five bangles each one different. Embedding is fun!
Thank you again Myléne."

KIM LALOR
Fun and unique!
"Thank you Mylene for an engaging afternoon of learning such a fun and unique craft. Mylene's patience and years of experience and expertise is truly a credit to her teaching. I look forward to experimenting with my newly learnt craft and taking another workshop in the near future."

KIM SCURFIELD
Thoroughly Enjoyable!
"Thank you from myself and the girls for the great work shop on Sunday. We thoroughly enjoyed ourselves!"
Limited Places Available
Class sizes are kept small so you get a boutique experience. You'll receive individual attention, personalised to your needs and ability.
Private Classes
Can't wait for the next resin class to be announced? Then email me with your preferred date and time and we'll organise it.
Private one-on-one resin workshops are also available.
As a resin expert who has 15 years of teaching experience, I can tailor classes to suit your needs. A private class is ideal if:
what you want to learn is not covered in my regular workshops
you want to learn how to resin in a more private setting
Additional fees apply to private workshops. Please email me to make arrangements.